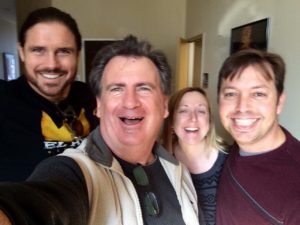 First-time Film Producer John Hennigan (AKA John Morrison  & Johnny Nitro from the WWE) had a fun and entertaining film but needed help navigating the daunting process of finishing & delivering "Boone"  the film and its trailer for his distributor.
Cost effectively navigating the post workflows for finishing and delivery process is one thing ROUSH is very good at. Their years of experience knowing where to place time and resources saves money and prevents any issues that could arise later. Doing it right the first time is the only way to achieve a successful delivery that will pass the most stringent QC.
ROUSH Media helped with editing, graphics, conform, color grade, and creating all masters and deliverables including:  QC,  Closed Captions,  CCSL, DCP,  QuickTimes, Blu-rays, DVD's, etc…. And even helped connect him to our music partner sensory-overload.com for his trailer music needs.
"Let us help you achieve your goals. We are more than a post house we are a post partner. Our clients become our friends and your success is ours  –  Keith Roush, Sr. Colorist ROUSH-Media