ROUSH Media provides Quality Digital Cinema Mastering ( DCP's ) & DCP QC for theatrical distribution of Films:
To distributors, cinemas, festivals, & premieres; 4K or 2k, Encrypted or not, all with Custom Color Conversions from any source.
The DCP's we have created have grossed more than 200 million in the box office. (We know Digital Cinema)!
SAVE 35%! Get your Quote & free DCP's 101 E-book here: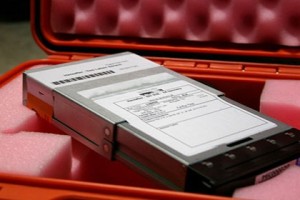 CRU Drive in Case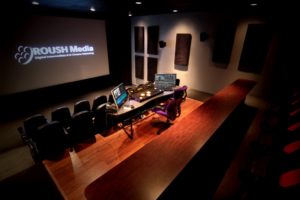 Our 4K DCI Theater
Digital Cinema Mastering At Roush Media
Frequently Asked Questions.
What is a Digital Cinema Package or DCP?
In the way that a film print comes as rolls of film contained in cans, a Digital Print exists as data stored on a hard drive. A Digital Print, known as a Digital Cinema Package (DCP), is a movie stored as a group of digital files as standardized by DCI, a studio consortium.  Then these files are transported to theaters on a specialized hard drive. The files are then copied to the theater's Digital Cinema Server-a computer that stores, reads, and plays back DCP's. From the server the movie is played back and projected onto the screen. A DCP is what is used as the content in all digital cinemas for the highest quality playback. For a number of reasons a properly mastered DCP would have superior image quality to everything else (Film Print, HDCAM, Blu-ray…)
What does a DCP look like and what type of media is it on?
The package of files (Jpeg2000 XYZ MFX, XML & CPL) lives on Linux formatted an industry standard CRU or USB hard drive. These drives are specifically designed for digital cinema and are DCI compliant. Using one of our drives is the only way to guarantee compatibility with all play back servers.  They have been tested and are currently in use industry wide on thousands of screens. The drive and media cannot be read or played back on standard PC or MAC without special software.
As a film maker, why should I exhibit on a DCP over any other format?
The top 5 reasons are:
Broad Acceptance: Nearly all cinema screens will be Digital by 2015.
Huge cost savings for a DCP mastering and distribution compared to Film Prints and even tape.
Superior image and sound quality over everything else for commercial exhibition ( Film, tape, Blu-ray)
Highly Reliability, less fragile media,
Perfect digital copies exhibit the same on the 100th screening as the 1st.
How fast can I do the Digital Cinema Mastering process and get a DCP?
This can depend on the status of the source files and what additional services may be needed but. For most cases our standard turnaround is 3 days. However Rush services is available that can create DCP's the Same day. Let us know what your time frame is as we will do our best to provide you a quality product by your deadline.
What is an academy qualifying DCP?
In order to have the widest range of compatibility with all the servers in the world at the highest quality and be eligibility for the Academy awards the Academy of motion picture arts and sciences have set some rules and specs. (I.E. 24fps 2K with 5.1 audio). Also long as source files meet our submission guidelines we format every DCP to be an academy qualifying DCP.
http://www.oscars.org/awards/academyawards/rules/rule02.html
What if I need subtitles or audio tracks in more than one language?
We can create a supplemental DCP's with different audio or subtitles tracks. You don't need to re-encode the picture to do this. If you don't have a XML subtitles we can create them for you as well.
How does the Encryption work and should I encrypt it?
Encryption is an AES 128Bit security measure to prevent anyone without a key delivery message (KDM) from viewing the DCP.  The Key is generated for a specific server/theater screen for a set time. A new key will need to be generated for every new screen it shows on at an additional cost. The added expense is required for studio theatrical broad released films, but may not be the best choice for festivals and special screenings for a small indie film. A film festival would prefer it to be unencrypted. We are happy to provide encrypted and unencrypted DCPs per your request. Even a DCP that is not encrypted has a number hurdles that must be overcome for it to be pirated.
For example,
To access a DCP / view you will need special systems / software (Linux EXT file systems, Jpeg2000 MFX decoding of DCI compliant content)
Once you have access the files they will be in XYZ color space and will need to be converted to correctly to be viewed without everything looking really bad.
Each Digital cinema server is designed to only allow ingesting of a DCP and cannot export the CPL. This will not allow it to be moved to another server without coming from the source Hard Drive.
Can I encrypt my unencrypted DCP at a later time?
Yes, this is a great way to master a film for special screening and festivals and then encrypt it one you have a general theatrical release on a number of commercial cinemas. It makes sense.
What type of sources can you come from?
The Digital Source master (DSM) can be a number of file or tape formats.  Common formats are DPX, tiff, ProRess 444 for picture and 5.1 print masters as 24bit 48K wav files. For the latest view our DCP tech submissions sheet
What resolution and aspect ratio choices do I have for Digital Cinema Mastering?       
There are a few different common aspect ratios to choose from when making a DCP. They are 1.85:1 (referred to as "Flat"), 1.89:1 (also known as 1.90:1 and referred to as "Full Container"), and 2.39:1 (also known as 2.40:1 and referred to as "Scope"). The table below shows the 2K and 4K resolutions relating to those aspect ratios. Each of these is known as a "container size" because all DCP's should ideally fit within one of these aspect and resolution combinations.
| | | | |
| --- | --- | --- | --- |
|   | Flat (1.85:1) | Full Container (1.90:1) | Scope (2.40:1) |
| 2K | 1998×1080 | 2048×1080 | 2048×858 |
| 4K | 3996×2160 | 4096×2160 | 4096×1716 |
How can I make sure my DCP works once it is sent to theaters?
Part of what you're paying for when you choose a facility is the peace of mind knowing that it will be done right the first time & the experience to support it all the way to the theater. After we create the DCP, we ingest, hash check, verify, and QC every DCP in our DCI theater on our Dolby server. We also only use Hard Drives that have been thoroughly tested on thousands of servers and screens when we ship it we always use a pelican cases to protect it so it arrives the way it left her, working.
Why do I need to buy a hard drive from you and not just provide my own?
The playback servers at theaters are very specific and finicky about what format and drive type they will take. Many of the servers out there are many years old and have not been upgraded to the latest and greatest options. So when you your DCP put it on drive and want to know it will work anywhere, you need to build it to work on the oldest most difficult systems. Our years of experience and partnership testing with our vendors has provided us the know how to do this right the first time. We also only use industry standard CRU Hard Drives that confrom to the DCI spec & have been thoroughly tested on thousands of servers and screens.  When we ship it we always  recommend  you to use a pelican cases to protect it so it arrives the way it left her, working.
 Why should I use ROUSH Media's Digital Cinema Mastering (DCP) services?
If you want the peace of mind knowing it will be done right the first time & looking its best we are your best choice.   Here are some reasons why:
We thoroughly check the source files (DSM) that is delivered to insure they meet our specs for a quality. If there are potential issues we notice our staff will notify you of the problem before hand to resolve it.
As a DI facility and not just a D-Cinema master business. We know color. If you have not color graded your film in a DCI theater you're not getting the best image for the theater as possible. We have talented colorist and a DCI theater that can grade your film or trailer in the correct color space & environment so that you see what your audience will see. If you film has already been graded we can convert from Rec709 to P3 (Digital Cinema Color Space) and do a trim pass so you see what it looks like before creating the DCP. If doing it right is important to you and you have not graded it for the theater we recommend this.
Since we are serious about color and know it well, you can rest assured the XYZ Color Conversions we do are 100% accurate. For more accurate color mastering we employ a RGB to xyz matrix in floating point. This is the math behind a LUT and is much better. We also do Custom Luts /  Color Conversions on projects.
As part of the D-Cinema Mastering process if necessary at no additional cost we will reformat the aspect ratio to Flat or Scope pull up the audio to sync at 24fps, Convert the color to DCI XYZ color space from it source
We have the engineering experience and support to provide the studio quality 2K, 4K and 3D encrypted DCP's that are 100% DCI Compliant and work on all servers.
We QC in a calibrated DCI Compliant Theater on a 20 foot screen. This is very important. See why below.
Why is a full QC in a calibrated DCI Theater important?
The Digital Cinema Mastering process is very complicated and a lot can go wrong. Also what holds up on a small screen may not on a big screen. Our DCI theater QC can be client supervised or not and will check everything. We are looking as the Image quality & colors after the color space conversion, the audio mix volume, sync and more.   You don't want your screening at a festival or your big theatrical release to be the first time the film is being viewed on the big screen.
What is the cost?
Never has such a high quality viewing experience been more affordable to the independent film maker.  Creating a film print alone today is more expensive than creating a DCP.  There are many options that factor in for the cost consideration so give us a call or fill out this quote request for exact quote.