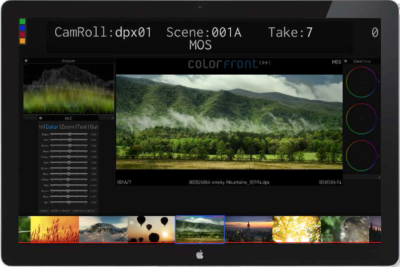 Dailies
File-based workflows have created a paradigm shift in the post-production world. If utilized correctly, the time, cost, and creative benefits can be great. With the support of the post house, the process of acquiring image data, managing color, archiving, processing, and distributing to the various departments realizes efficiencies that weren't previously possible. They allow for more collaborative workflows, and amplify flexibility in post. These processes will be sure to cut costs and increase creative control of the production.
ROUSH Media's On-Set/Near-Set Dailies Systems do just that! They provide efficient data and color management workflows from acquisition to delivery. Today's high-end Digital Cinema camera systems provide many different acquisition formats, resolutions, and color spaces. Our On-Set Dailies System carries the Director and DP's creative intent from set to final color grade. Everyone can receive same day, sound synced, color graded dailies–but it doesn't stop there! Editorial will receive exactly what they need: the director's notes for scene, circled takes, and much more! Dailies also allow Producers and/or clients to review the footage with the DP's intended look applied. And they help with efficiency; the colorist will receive a CDL containing the look chosen by the DP on set.
Camera RAW DATA backed up 3x and archived on LTO tape using the industry's best practices
Instant Playback & QC of camera files
Dailies & Metadata
Sound sync for dual system sound
Apply scene, take, camera, circled takes, and more metadata to editorial and iPad review.
Output to all needed file formats for editorial, iPad / web review, and final mastering
Color Management                                                                                
Set looks with the DP in our theater or on set: they will transfer to the dailies with the use of LUTs and CDLs (on-set video playback, iPad, editorial, etc)
All of the dailies' color decisions are carried forward to the final grade as metadata: used as a starting point for the color grade
Image science & color management are provided from set to final color
On-Set services:
Our systems are portable, modular, post-production systems that are configured to the exact needs of each individual production.
There are many options for choosing a dailies technician. We can train yours, you can choose from a database of DIT's, or we can simply provide a dailies technician for you.
iPad on-set Live Color Grade & Video Playback
Near-Set services:
We Accept media 24/7
Free pickup and delivery
Affordable pricing & fast turn-around with the same great services as On-Set
ROUSH Media Dailies Services will allow you to have more creative control
for the finishing of your project while saving you time and money.